The Yuletide season is upon us. With the Christmas trees being pitched-up, the festive wreathes and the bright parol hanging on doors and balconies, and with the rush to plan-out what to have for Noche Buena, the spirit of Christmas grows stronger as we slowly approach this most awaited holiday. Something that is also related with the holidays is the act of gift-giving and, in turn, the process of gift-wrapping.
Why do we wrap gifts?
Have you ever wondered why we have brightly colored boxes, stuffed paper bags, and meticulously wrapped items under our Christmas trees? Have you ever stopped and thought about why it is always a blast whenever we unwrap gifts?
The answer is simple. It's all about framing and expression.
Gift-wrapping has a positive influence in recipients towards receiving a gift and owning its contents (Howard, 1992). When you wrap gifts, you tend to frame them in a manner that is pleasing to the eye. It represents the effort that you've put into in taking care of the gift you want to give to a loved one, thinking about them even in the most minute detail. It makes the contents of your gift feel even more special to the recipient.
In a way, we view the act of gift-wrapping as an extension of the expression of love that we show in giving gifts as it represents the extra effort put into to add a personal touch to the present (Everything You Need to Know About Benefits and Importance of Gift Wrapping, n.d.).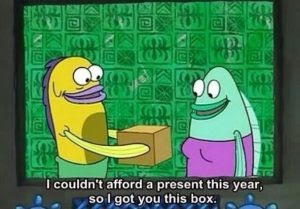 How does this relate to packaging?
When we prepare the packaging for our products, we think of two things aside from how it protects the goods within. We think of whether it properly frames our products in a good light and if it expresses the right message to our clients. Obviously, we want our clients to feel that we take great care in providing them the quality products that they deserve.
Here at Cr8tive, we provide just that: quality packaging that adds value for quality goods. Don't restrict the act of gift-wrapping just for the holidays. Instill the act of gift-wrapping and the expression it brings with it inside each product you sell with the proper packaging. Your customers will appreciate it.

Reference:
Howard, D. J. (1992). Gift-Wrapping Effects on Product Attitudes: A Mood-Biasing Explanation. Journal of
Consumer Psychology, 1(3), 197–223. https://doi.org/10.1016/s1057-7408(08)80036-8
Everything You Need to Know About Benefits and Importance of Gift Wrapping. (n.d.). Gift Idea Space.
Retrieved November 15, 2022, from https://giftideaspace.com/blog/importance-of-gift-wrapping